Jonny Corndawg is dropping by Chattanooga for this Friday's Hell Yeah Fest (July 15th) at JJ's Bohemia along side Shovels and Rope (featuring Cary Ann Hearst and Michael Trent), Roger Alan Wade, Joel Hamilton (of The Working Title), Matt and Marty Bohannon (of The Bohannons)…  and we had the honor of interviewing Mr. Corndawg himself!!! Get to know one of The South Rail's favorite artists and get ready for his new LP coming out this August: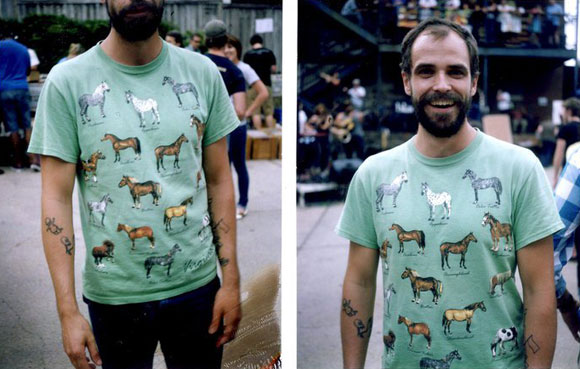 The first time The South Rail got a taste of the Corndawg was in Atlanta at The Drunken Unicorn a few years back, with DeerTick as your backing band. What's your connection with John McCalley and the DT crew?
"That show was a nightmare for me. I remember it, but barely. It took place during the climax of my 14 day swine-flu. I remember praying for death that night but I don't remember it ever answering my prayer.
I've know John for about 8 years or so. I met him through this guy he was touring with named Viking Moses. He and I fell out of touch for about 3 years and then I looked him up around the time that Myspace was worth looking at. I was thinking "I wonder what quiet little John McCauley is up to…" — so I got back in touch and finagled my way onto a tour with them and just stayed there. He's one of my best friends. We have buddy tattoos in memoriam of a person who doesn't exist."
Do you have anything special up your sleeve for this week's Hell Yeah Fest at JJ's Bohemia?
"When up next to Cary Ann Hearst and Roger Alan Wade, how on earth will my double name ever match their triples?"
We love how you've documented your career on Flickr, showing your journey and influences throughout the past few years. Especially your air brush and leather work. What got you into these 2 mediums and how much extra cash do we need to bring to purchase these Corndawg originals?
"Some people are "say-ers" and other people are "do-ers". I've always loved those two mediums but never knew anything about them. One day I just got tired of not knowing and I taught myself. Same goes for guitar but for all three, I really do wish I had someone show me a few things because I really don't know what I'm doing up there."
Back in Febuary, you had the short documentary, 'Stray Dawg,' made about you as you prepared to run the Surf City USA marathon at Huntington Beach, California. You also have a song titled 'Keep Your Body Happy Through Exercise' from your last LP "I'm Not Ready to Be a Daddy." Have you always been an avid runner? And what were your main influences to run in that marathon?
"My dad is my main influence. This applies to the previous question as well. He's a nurse by trade but he also is a blacksmith, a tailor, bike mechanic, marathon runner, bike road racer, he's been a farmer, and he's an amazing cook. Oh, did I mention that he builds banjos and has made 5 guitars and just got into making ukeleles as well? He's the coolest dude ever and he taught me everything I know about figuring stuff out on my own. I just put it in a song recently. The song is about some people who were endlessly discouraging me, in NYC (about how I'd never get a record released because my music was too weird – it's called Wrong Crowd) – the line goes 'My daddy taught me to choose to be/ whoever I wanted to and he/ always encouraged me/ to be whoever the hell that it is that I am!'"
Your upcoming album 'Down On The Bikini Line' drops August 30th and in celebration, you are giving away the song 'Chevy Beretta' which features Caitlin Rose (see below). Are there any other guest appearances on the album? And is there anything specific you'd like your fans to know about the new record?
"Hell yeah! This is a star studded record. Chock full of incredible pickers and singers. John McCauley plays a pretty farty solo, Taylor Goldsmith harmonizes on Night Rider, Caitlin's on almost every song, Tristen's on a track, and the band was compiled of my favorite players in Nashville – it took me two years to get the band together for the record. Joshua Hedeley plays fiddle and sings backup (like a damn angel), Jordan Caress on bass, Ben Martin on drums and Rich Gilbert on lead guitar and pedal steel. I couldn't be much more excited about this release.
Going back to what I was saying before about the wrong crowd – I can't tell you how good it feels to have started my own label and gotten so many incredible people behind me on this. It's a great big middle finger up to all the folks who told me it wouldn't happen and it just feels so good."