UPDATE 12/11: UNFORTUNATELY THIS EVENT HAS BEEN CANCELED. CLICK HERE FOR DETAILS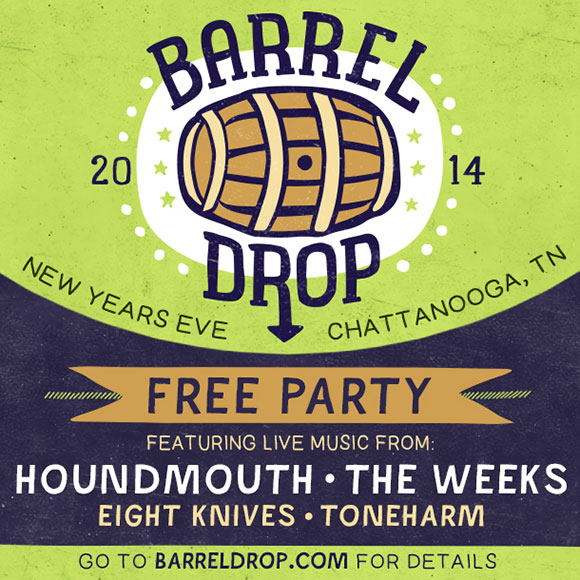 Finally! Chattanooga is the city where all our SouthEastern friends need to be this New Years Eve! Cancel any plans you've have and join us December 31st to ring in 2014 with a FREE concert featuring HOUNDMOUTH and THE WEEKS!
This is all taking place downtown at Chattanooga Whiskey's first annual New Years Eve Barrel Drop, located at Center Park and the 700 block of Market Street. Admission is totally free to the 21+ public and includes an evening of live music, cash bars and heated tent areas. Local rockers Eight Knives and DJs Toneharm are also on the bill to kick-start the evening. For more details, go to Barrel Drop's official website HERE.
If you are no stranger to The South Rail, then you are more than familiar with the 2 featured acts. If not, well get that way:
Houndmouth are wrapping up one hell of a year. On top of several national TV appearances including Conan, Letterman and CBS This Morning, the New Albany/Louisville 4-piece have recently toured with Alabama Shakes and just wrapped up their recent tour with several sold out shows including New York City and 2 back-to-back shows in Louisville, KY where they performed with My Morning Jacket's Jim James!
The Weeks are closing 2013 on a high note as well with a year of non-stop touring supporting their new album 'Dear Bo Jackson.' The Mississippi boys (now via Nashville) also spent a couple mouths overseas touring the UK opening for Kings of Leon, and wrapped up their their year playing 2 back-to-back sold out shows in Nashville just last week.
See below for best of videos from both bands and see you December 31st!
The Weeks – House That We Grew Up In from Serpents & Snakes on Vimeo.