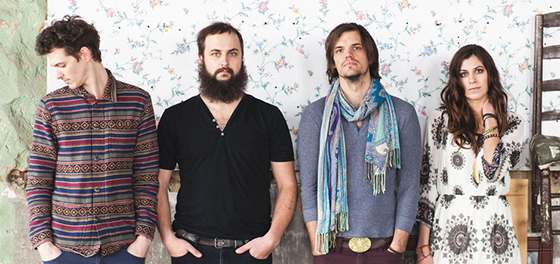 Houndmouth have been hard at work this Summer in West Nashville with producer Dave Cobb recording their follow-up to last year's debut LP, 'From the Hills Below the City.' And with recent jems produced by Cobb like Jason Isbell's 'Southeaster' and Strugill Simpson's 'Metamodern Sounds in Country Music,' we have been eagerly awaiting the results!!!
The new record isn't due until early next year, but to hold us over, the band and Rough Trade Records have given us a first-taste of the new, yet-untitled LP via NPR's All Songs Considered with the haunting, striped-down track 'For No One.'
The single alone shows much growth from the previous record with its raw, bare-bones take… Add the new songs we heard when the band stopped by Chattanooga this Summer, and we are all in store for one hell of an album!
Stream 'For No One' below and read the full Ann Powers interview with Houndmouth frontman Matt Myers HERE.