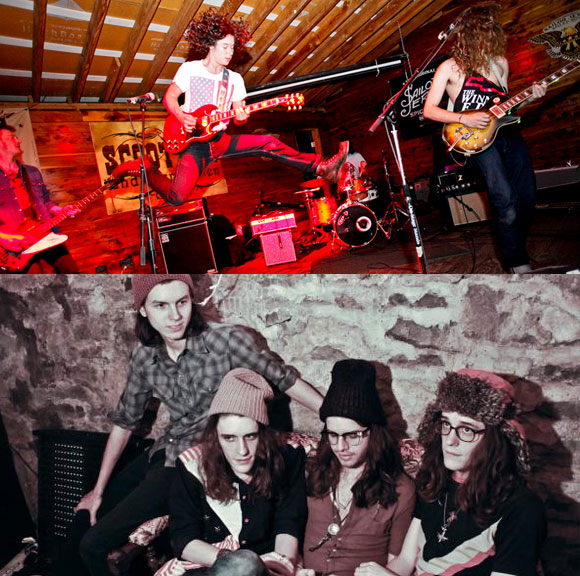 The official announcement dropped yesterday via Nashville Scene that Nashville based bands Turbo Fruits and The Weeks have been signed to Kings of Leon's label, Serpents and Snakes Records! Great news for 2 hard working bands!
Turbo Fruits, who just finished recording in Austin TX with Spoon's Jim Eno at his Public Hi-Fi studio, will be releasing their third full-length studio album, 'Butter,' later on this Summer via Serpents and Snakes. At the same time, being able to offer limited edition releases via Turbo Fruits front-man Jonas Stein's own Turbo Time Records… Releases like the limited edition lollipop colored 7-inch vinyl of the single 'Sweet Thang,' the very first single released from those Jim Eno sessions… But good luck getting 1 of these 100 beauties, that sold out in less than a day! Click HERE for details.
We were one of those lucky 100 and decided to record the live playing of the record's A-side 'Sweet Thang.' Being HUGE fans of Turbo Fruits' sophomore LP 'Echo Kid,' we were in huge anticipation in hearing this new single… and once that needle dropped, we were blown away! Take a listen to the track below (Note: This was done in low quality to avoid anyone from ripping the audio):
Not to forget The Weeks, a great band we had the privilege of catching several times here in Chattanooga, who are working on their new album now, set to release in 2013. It will be the follow-up to the EP 'Gutter Gaunt Gangster' that dropped last Fall. Stream the EP below and pick-up a second-pressing (soon) HERE or on tour. Great stuff:
And also check out the full, well written article 'Snake Charmer' by Adam Gold HERE via Nashville Scene.