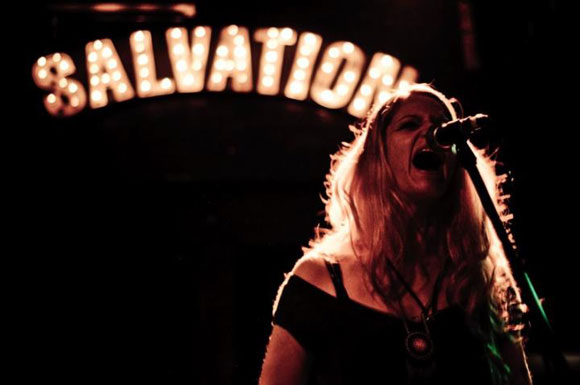 A lot of people asked us after the Those Darlins show this Saturday at Track 29, "What happened to Kelley Darlin?" And the answer we had was the same: "Kelley [whose real last name is Anderson] left the band a couple months ago to work on other projects and is now fronting a new band called Grand Strand."
We too were very upset by the news of Anderson's departure from Those Darlins, but just seconds into hearing Grand Strand's fantastic debut single 'Cactus Blooms,' we quickly embraced this new career change and found ourselves hungry for more. The 7-inch single for 'Cactus Blooms' will be out later this month on Riot House Records followed by a full length in the future.
But no worries, you'll be able to experience Grand Strand sooner than you'd expect! The new band is hitting the road this month opening for Richard Lloyd of Television, a tour that is dropping by Chattanooga's Lindsey Street Hall June 20th! We can't wait! But until then, stream the new single and check out the full June tour dates below:
June 2012 Tour Dates:
6.7.2012 MilkBoy Philadelphia, PA?
6.8.2012 Lemon Grove Cafe Youngstown, OH
6.9.2012 Frankie's Inner City Toledo, OH
6.10.2012 Thursdays Lounge Akron, OH
6.11.2012 Grog Shop Cleveland, OH
6.12.2012 Small's Hamtramck, MI
6.13.2012 Pyramid Scheme Grand Rapids, MI
6.14.2012 Redstone Room Davenport, IA
6.15.2012 The Double Door Chicago, IL
6.16.2012 Off Broadway St. Louis, MO
6.17.2012 The Revolution Room Little Rock, AR
6.18.2012 The High Watt Nashville, TN
6.19.2012 Cosmic Charlies Lexington, KY
6.20.2012 The Lindsey Street Performance Hall Chattanooga, TN
6.21.2012 Pilot Light Knoxville, TN
6.22.2012 Mayday Northside Cincinnati, OH
6.23.2012 Ace of Cups Columbus, OH