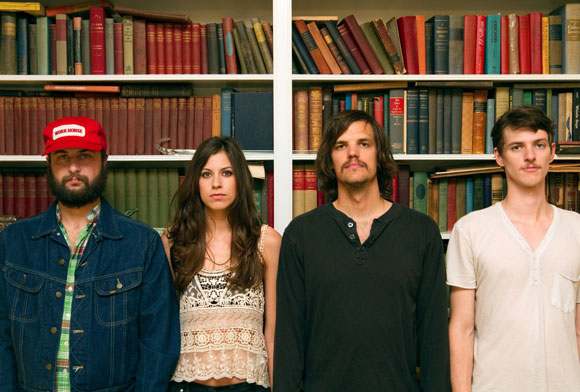 Best of luck to our friends Houndmouth who are about to embark on a huge adventure… their first tour!
The New Albany, IN/Louisville, KY 4-piece are kickin' off their debut tour with Dry the River Wednesday, September 19th at Washington DC's Black Cat along with a month-long string of dates… See full list below.
In celebration, check out the song that got us addicted to it all!… And directed by the guy who introduced us… 'Penitentiary' is the band's first official video from their debut LP that dropped from Rough Trade Records last month and is directed by Zach Hart of We Listen For You, the blog who discovered this band back in December of last year right after the band debuted in their hometown.
Check out the video below, pick-up your copy of Houndmouth's debut EP HERE and check out all tour dates heading your way soon!
Sep 19 Black Cat Washington, DC
Sep 20 Bowery Ballroom New York
Sep 21 The Space Hamden, CT
Sep 22 Brighton Music Hall Boston, MA
Sep 23 La Sala Rossa Montreal, Canada
Sep 25 Garrison Toronto, Canada
Sep 27 SPACE Evanston, IL
Sep 28 UTOPiAfest Utopia, TX
Sep 29 Triple Rock Minneapolis, MN
Oct 02 Biltmore Cabaret Vancouver, Canada
Oct 03 Tractor Tavern Seattle, WA
Oct 05 The Independent San Francisco, CA
Oct 06 Troubadour Los Angeles, CA
Oct 07 Soda Bar San Diego, CA
Oct 08 Constellation Room Santa Ana, CA
Oct 09 Hotel Congress Tucson, AZ
Oct 11 Last Concert Cafe Houston, TX
Oct 12 Circle Cafe New Orleans, LA
Oct 13 Proud Larry's Oxford, MS
Oct 17 Motr Pub Cincinnati, OH
Oct 18 The Smiling Moose Pittsburgh, PA
Nov 23 Buster's Lexington, KY
Nov 24 Headliners Music Hall Louisville, KY