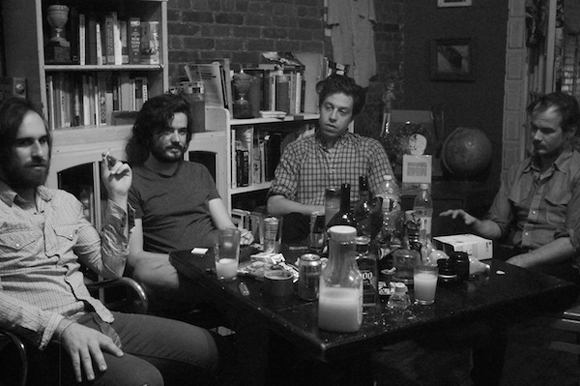 Back in July we had the honor to bring Brooklyn's Clear Plastic Masks to their first Chattanooga gig, hosting them at our The South Rail Presents at Track 29 July 27th…Right after their Chattanooga set and tour with Nashville's Fly Golden Eagle and Birmingham's Banditos, while in the Southern town of B-ham, videographer Joshua Shoemaker (who had been filming all 3 bands during their whole tour) decided to have the band set-up after a local show in a random public parking lot in downtown Birmingham.
The result? A pure genius combination of rock n' roll and cinematography! Enjoy the song 'Pegasus In Glue' recorded live in Birmingham below, a track that's the b-side from the band's brand new 7-inch 'Working Girl.'
And if you missed Clear Plastic Masks in Chattanooga or anywhere else down South this Summer, don't worry… The boys will be down camping out in Nashville the rest of the year, so expect some big things from this 4-piece before the year is out, especially if you're in the area.
Pick-up/download 'Working Girl' and Clear Plastic Masks' debut HERE: