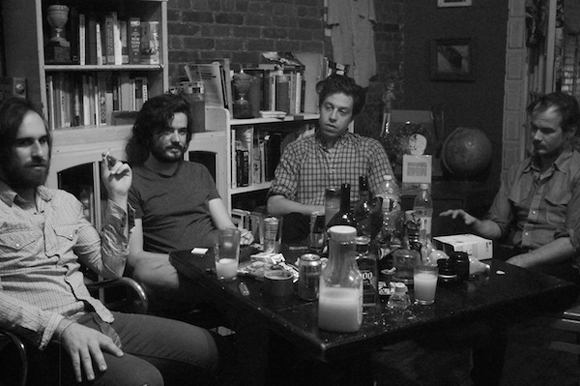 Clear Plastic Masks return to Chattanooga this Thursday, December 6th at The Honest Pint! And on-top of that, Muscle Shoals, AL's The Pollies are making their Chattanooga debut. Plus add locals Eight Knives in the mix and you've got one heck of a can't-miss show for a Thirsty Thursday evening… And one lucky reader will have a chance to score a pair of tickets for free!
Brooklyn's Clear Plastic Masks have been living in Nashville the past month recording their new record at Bomb Shelter Studios (the same studio the new Alabama Shakes and Denney and the Jets material were recorded). The last time we had to chance to catch this 4-piece live was last July at Track 29 during our very first South Rail Presnets… And speaking of the A-Shakes, the Brooklyn boys have recently been working on new material with Alabama Shakes' front-woman Brittany Howard along with Nashville's Fly Golden Eagle in the new super group Thunderbitch. Learn more about them HERE.
The Pollies are touring this Fall/Winer in support of their new LP 'Where The Lies Begin.' If you haven't checked it out yet, do it now. Worth every second of your time (full album stream below). And like we said, this will be their Chattanooga debut! Looking forward to catching these guys live!
Now, how would you like to see this show for free? This is all you need to do:
CONTEST RULES:
Just send an email to thesouthrail (at) gmail (dot) com, with the subject "December 6th" and your full name in the message… and that's it, you're entered! That simple. See full rules below.
Now, if you not familiar with the bands, get that way! Stream samples of all bands below and see you at the show. Doors at 8pm, show starts at 9pm sharp. $5 at the door get you in, unless of course, you're one of the lucky winners — Facebook RSVP HERE:
Contest Rules: Contest ends Thursday, 12/6/12 at 12:00pm. One winner will be selected randomly and notified via email on Thursday afternoon (the day of the show). The winner's name (+ guest) will be at the the door the night of the show. There are no actual tickets, just admission.