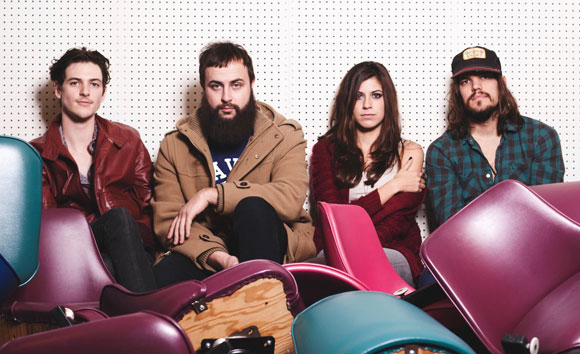 It's not like everyday you become proud of a band and their success as the band's music career develops, but damnit, we are so very proud of Houndmouth!
For the past year-and-a-half, we have slowly watched this New Albany, IN (Louisville, KY) 4-piece grow and it has been such an amazing trip so far… a trip that, in reality, is only just the beginning… and starting this June to be exact!
It feels like just yesterday when we helped bring Houndmouth down to Chattanooga for a special event that was hosted by Chattanooga Whiskey at Track 29 (see video here), and ever since, we have noticed nothing hard work and positive events coming from the Houndmouth camp including a record deal and to-kill-for gig opportunities… hell, these kids even have their very own beer!
With all that said, Houndmouth's debut full-length record "From the Hills Below the City" drops next week (June 4th) via Rough Trade Records, followed by their network television debut June 5th on Conan! — And if that wasn't enough, their full LP can be streamed via Conan's Team Coco website HERE!!! How cool is that?
We love it when great talent is embraced, especially so early in a curreer… Stream the new record HERE, scroll down to catch their latest video (and the LP's official first single) "On The Road," as well as a few others and catch them HERE this Spring/Summer at a town near you!
Pre-order "From the Hills Below the City" HERE