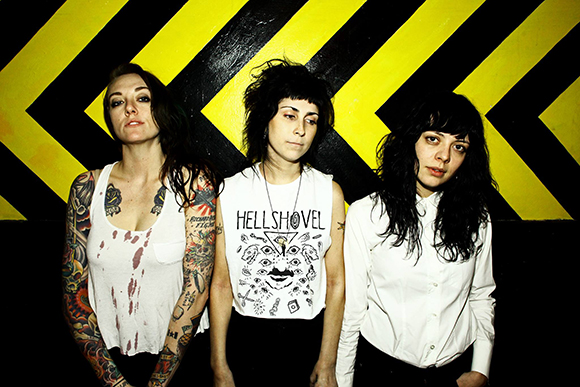 As if their latest record 'Suck My Shirt' wasn't enough, Atlanta's The Coathangers just released a limited 7-inch via their label Suicide Squeeze Records featuring the Gun Club cover 'Sex Beat,' as well as a Lost Sounds cover of 'Energy Drink & The Long Walk Home' by These Arms Are Snakes.
You're probably wondering: "That's an odd pairing since These Arms Are Snakes broke-up back in 2009" – But not only are the 2 bands from the same label, around the time TAAS de-banded, they were touring the East Coast with The Coathangers, making this 7-inch split an extra fine pairing (that makes a little more sense).
We haven't heard the Lost Sounds cover yet, which was salvaged from some unfinished recordings, but we can vouch for smokin' 'Sex Beat' cover… what do you expect… its the damn Coathangers! Stream 'Sex Beat' below, as well at The Coathangers latest LP 'Suck My Shirt.' The full LP is available to stream for a limited time, so dig it!
Pick up the 'Sex Beat' 7-inch HERE (Only 1,000 pressed on clear w/ red and black splatter) – And while you're at it pick up the latest repress of 'Suck My Shirt' as well, pressed on a limited pink/clear haze: